Over the years I've done a number of wildlife paintings because I love those animals too: bison and wolves and whooping cranes and other wild birds, and even a "big cat". It's what "Portraits of Animals" is all about, not just my commissioned portraits, but animals of all species. Some originals are still available, highest-quality giclees are available for nearly all, and smaller prints are available upon request. Follow the links to the "wildlife" section my Etsy shop to read more about them and see what's available.
"Wolf Howl", above, is an archival-quality 26″ x 18.5″ signed giclee print on acid-free hot press art paper from an original pastel painting of wolves howling in a twilight snow. It's easy to personify what animals do, but when I saw this picture I pondered what made these wolves stop at that point and howl while the rest of the group moved on, and what they had to say. The range of dusky earth tones and the textures inspired me to render it in a looser and more sketchy manner than usual, much as our eyes perceive things at dusk, letting the texture of the paper add to the image, and allowing rough edges to show some of the actual natural paper tone.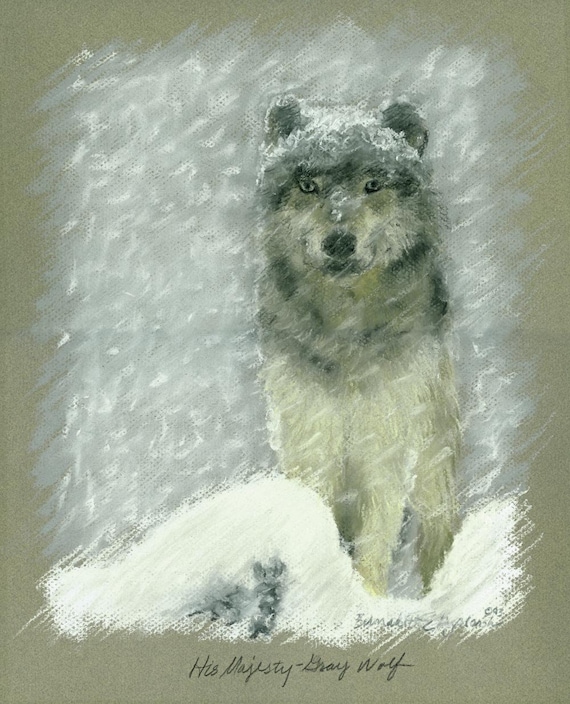 Now there's a look that will put us mere humans in our places. I combined images of wolves and their habitat to do a quick sketch, focusing on the unworried, unhurried expression. Wolves know they are near the food chain, and we don't really worry them. This is worked in pastel on acid-free Canson drawing paper in one of the threaded dusky green shades that reminds me so much of leaf litter in the woods, and the matted, framed original is still available, painted in 1994 and I'd love to find a home for this guy. The mat is 2-1/2″ on all sides in slate blue black core to pull the cool tones from the snow, and the frame is solid cherry with a gray wash to pull the warm tones from the wolf.
We go from snowy mountains to the hot and arid Great Plains.  "Shadow of Bison" is an archival-quality 26.5″ x 17.5″ signed giclee print on acid-free hot press art paper from an original pastel painting of bison in a western twilight. I saw a photo in a magazine and remembered historical and fictional novels I'd read about Native Americans (wearing my long hair in two braids my entire childhood) to the "Little House on the Prairie" series and the settlement of the Great Plains and put together what I saw in photos and what I'd visualized while reading of a countryside I've never seen. This looks like a lot of bison, but considering how many populated this country just 200 years ago, this herd is just a shadow of what it once was, and in this orange twilight even their shapes are reduced to shadows. I also have quarter-size digital and giclee prints of this image as well as the original painting which is not listed, but ask if you are interested.
"Taking Flight" is an original pastel painting of two whooping cranes taking off in a marsh on a summer afternoon. Many years ago I saw two captive whooping cranes, likely at the Pittsburgh Zoo. I marveled at their size–they were nearly as tall as me! But it was when one of them spread its wings that I was truly enchanted by the pure white body, neat brown wing tips and tiny touches of yellow highlight here and there, and the grace of that huge bird. And I read about them and discovered their plight, having no idea they were so imperiled. Visiting what had once been their habitat on Assateague Island, Virginia, I imagined what they might have looked like in the whispering marshes. This original is available as well as full-size and smaller giclee and digital prints; click here to see more.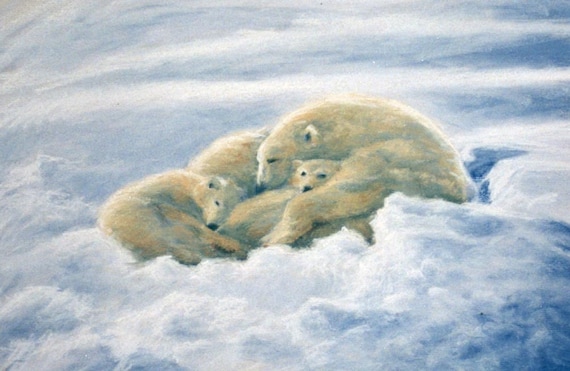 I have always seemed to be inspired by polar bears, and it might be that I love snow and their white fur, neither of which is truly white and that becomes the beauty of the scene. The Pittsburgh Zoo and PPG Aquarium has an excellent polar bear exhibit, and combined with all the images seen on the news, even a decade or more ago, I was moved to paint them.  I saw a photo in a wildlife magazine of the family settling down in a snowdrift for a night's sleep, keeping warm with their own fur, the insulation of the snow and cuddling together. This painting was drawn from many photos of snow, of Alaska, of polar bears, but the basic composition was from that one photo I had seen and somehow remembered, wondering at the stark, quiet, even threatening beauty of the Arctic that the polar bears endured on a daily basis. In this case, the original is sold so I have full-size giclee prints; when the purchase ordered the art they had a mat and frame for it so I retained the mat and frame I'd prepared and can use it for your giclee if you'd like. Read more for details.
Yes, a big kitty! "Practice", well, big cat, small cat, in many ways they act the same, and this cougar, obviously practicing a stalk and pounce is doing what all cats do in their spare time, when they aren't sleeping. This is a small print, 8″ x 10″, of a larger piece because I sold the original before I could take an adequate photo of it; the small print is fine, but larger and it loses detail, though I've contacted the original purchaser about rephotographing it as an original.
You'll find several more paintings plus a few pencil drawings and linoleum block prints in my gallery of wildlife art and prints on Etsy. As always, I can create custom-sized digital and giclee prints, and I also offer custom framing for your print. Just follow the link for "Ordering Custom Artwork", below, or send a conversation when you visit my Etsy shop.
---
All images used on this site are copyrighted to Bernadette E. Kazmarski unless otherwise noted and may not be used without my written permission. Please ask if you are interested in using one in a print or internet publication. If you are interested in purchasing a print of this image or a product including this image, check my Etsy shop or Fine Art America profile to see if I have it available already. If you don't find it there, visit Ordering Custom Artwork for more information on a custom greeting card, print or other item.